Brothers,
Department of New York conducts a single fundraiser each year, the Raffle. As Senior Vice Commander I have the responsibility of managing that effort. Recently, the costs of our annual Encampments, which must be in person, have soared as hotels now charge for meeting rooms which they previously provided at no charge, if we had enough attendees. It would not be fair or productive to increase costs to those who attend at their own expense and considerable travel time to conduct the business of our Order. Doing so would probably reduce attendance and we would lose the participation and valuable input of many brothers and their camps. Generous brothers have contributed all the raffle prizes, the proceeds of every raffle ticket you buy goes 100% to the
Department which cannot sustain operations with $6.00 in dues.
When you receive your raffle tickets in the mail, please be generous as the alternative is raising dues which would probably cause us to lose membership.
If you decide not to bother with the raffle but would like to help, or would like to contribute more than the cost of the raffle,
the Department has 501 (c) 3 not for profit status you can make a donation check payable to: Department of New York, SUVCW any amount you want, and write Donation in the memo note space.
All Donations and raffle tickets when mailed out to you should be returned to:
Edward O'Brien
PO Box 69
Honeoye Falls NY 14472
Tickets will be mailed out in the next few months, If you have a new address tell your Camp Secretary, so they can update the mailing addresses.

Sampling of Prizes to date:
Two $50.00 Home Depot Gift Cards, (separately).
Framed SUVCW Official Print 118 th NY Dept. Encampment
Newburg-West Point-June 9-10, 2001.
"By Their Surviving Comrads"
Battle Monument West Point NY Signed by Paul R. Martin III
Civil War Stamp Collection Framed 1994 USPS (20) .32 cent stamps.
Estimated collectors value $20.00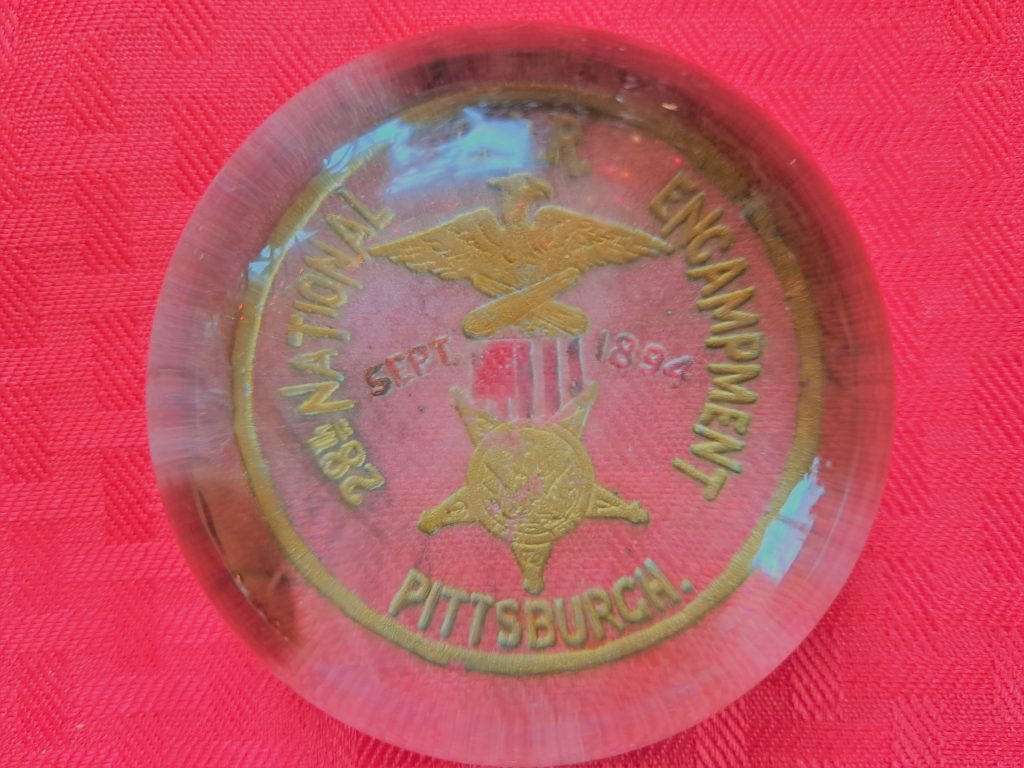 Glass paperweight 28th National G. A. R. Encampment Pittsburgh, Sept. 1894 Estimated collectors value $135.00
Large round circular bronze coin 39th National Encampment of G.A. R.
Denver Sept. 1905 Pikes Peak, Co. Estimate collectors value $165.00
American 48 star flag with GAR stencil on it. 61/2" Long X 11" wide.
I will also be setting up a White Elephant Table in the conference room with many more items available for a donation.
Edward P. O'Brien
Senior Vice Commander
Department of NY